What is management accounting?
Management accounting combines accounting, finance and management with the leading edge techniques needed to drive successful businesses.
Chartered Management Accountants:-
Formulate business strategy and explain the financial consequences.
Monitor spending and financial control.
Explain the impact of the competitive landscape.
Bring a high level of professionalism and integrity to business.
Determine capital structure and funding requirements.
Carry out due diligence.
Conduct internal business audits.


The management accounting skillset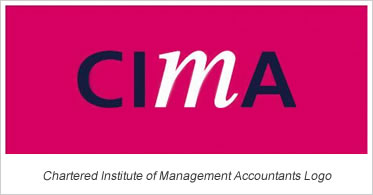 Our members are qualified to work across an organisation, not just in finance. In addition to strong accounting fundamentals, CIMA teaches strategic business and management skills:
Analysis - they analyse information and using it to make business decisions.
Strategy - they formulate business strategy to create wealth and shareholder value.
Risk - they identify and manage risk.
Planning - they apply accounting techniques to plan and budget.
Communication - they determine what information management needs and explain the numbers to non-financial managers.

Back to top
Year end and tax planning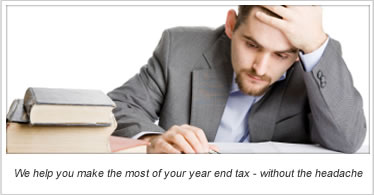 Nobody likes to pay too much tax so when it comes to getting hard-earned profit out of your company, you need to be sure you comply with the most up to date tax-efficient methods.
By getting early warning of year end results, it gives time to evaluate and maximise the use of the available allowances, reliefs and exemptions – which may be lost before the year end.
Many tax saving strategies require cash to be spent, so the more time there is to plan, the better.

Back to top
Payroll Management
Many smaller companies like the ease and confidentiality of outsourcing their payroll. It removes the need to purchase and continually update software as well having a suitably experienced person to operate the system. The advantages of externally provided payroll are:-
No upfront or on-going software costs
Fixed monthly fee
Confidentiality assured
HMRC and statutory compliance, including new RTI reporting
Minimal hassle and time-saving in an increasingly bureaucratic area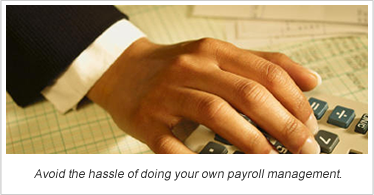 For larger companies with more employees, especially those with frequent leavers and joiners or with a mix of weekly and monthly paid staff, it may be more beneficial to operate an in-house system.
Call us today to advise which system works best for you: 01604 842166

Back to top
Traditional Accountancy Vs FAB Accountancy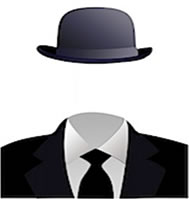 Traditional Accountancy
Year End Accounts, for Companies House, HMRC, lenders etc.
Focus on compliance, tax computation and tax planning
Reports on the business as a whole with aggregated values
Statutory format
Presents a historical perspective and a snapshot of the financial position at a specific date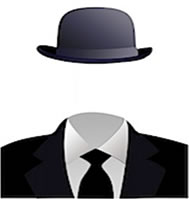 FAB Accountancy
Monthly Management Accounts, for internal use.
Emphasis on information for decision making
Can focus on specific areas of the business
Any format to suit individual business needs
Reports historically but uses forward looking reports such as budgets, cash-flows.


Back to top
How can FAB fit in with your business?
Whether you are looking to change accountants, or to extract more information from your accounts in a timely, affordable way, we can help you.
At FAB our expertise is in understanding the financial metrics of your business and knowing which areas are adding value and uncovering which activities are unprofitable.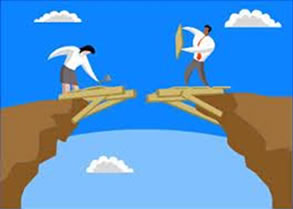 Traditionally, organisations starting off build up an accounts department with some part-time book-keeping where the ins and outs are recorded on a spreadsheet , or on an accounts package. At the end of the year, the external accountant will review the postings and produce a set of year end accounts will which give an accurate position of the profit or loss made and the balance sheet position.
However this is usually many months after the event and too late to have any pro-active input if results are not as expected.
At FAB we bridge the gap between the monthly book-keeping and the year end accounting.
By using all the usual accounting techniques and expertise we can extract the key performance indicators just days after your month end. Your monthly financial reports can be individually tailored to your business to give you exactly the information you need when you need it most.

Back to top
What's the most suitable accounting system for my business?
| Package Type | Why? | Why Not? | Why Fab? |
| --- | --- | --- | --- |
| Bespoke | Specifically designed to fit in with your organisation and the unique way your business operates. | Expensive and not usually cost effective for the smaller business. | With bespoke systems, it is difficult to get concise, meaningful reports. FAB can help manage the accounts module so you can extract the relevant data, rapidly! |
| Off the shelf' boxed' software (Sage, Quickbooks or similar) | Basic versions usually an affordable solution for the smaller enterprise. | Can become expensive when scaled up and when including service and upgrades. Resides on system only, requiring version control. | Through FAB's TeamViewer facility, we can provide instantaneous on-line support to you, whatever your system. By letting us log into your system, we can update, correct and perform monthly routines for you. |
| Excel Spreadsheet Cashbook/Googledoc | Cheap, simple to use, ideal for a basic one man band type operation. | Limited when integrating different functions and as business becomes more complex. | Enter your basic sales or purchases information on a spreadsheet or a Googledoc and FAB will report the relevant information back to you as often as your business needs. |
| 'Cloud' based system such as Xero, Liberty | Software can be accessed from anywhere allowing users to work on the system and always on the most up to date version. | Prices usually relate to number of users so can become expensive at a certain level. | FAB allows all authorised users to access data in real time, on-line. User access to more sensitive areas can be limited so that certain functions or access to bank accounts can be restricted. |


Back to top
Pricing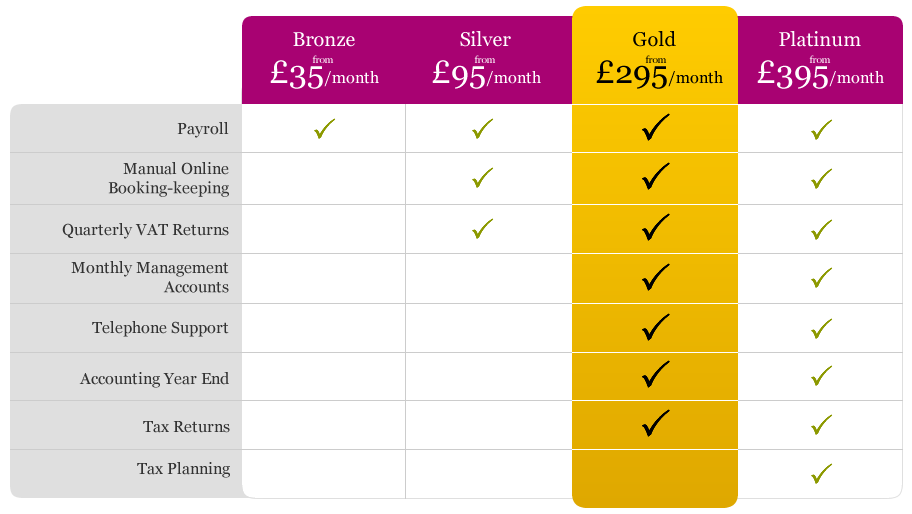 Prices will vary depending on the volume of paperwork involved. All prices will be +VAT.
Call us on 01604 842166 so we can quote for your requirements and design a package to suit you.

Back to top
About FAB
Partners – Aileen Major and Julie Collarbone
We believe that many companies lack financial expertise in the early years, when the primary focus is on sales turnover and managing the cash.
Too often, daily book-keeping and data entry is considered to be sufficient for accounting purposes. It is easy to focus on the wrong numbers and miss the key performance measurements that can make or break a business.
What drives us is providing the financial expertise that any growing company needs to realise its full potential.